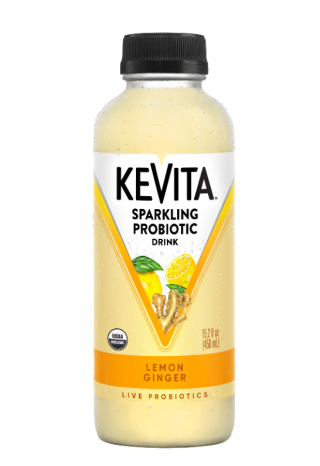 KeVita Sparkling Probiotic reviews can tell you how this bubbly tea works wonders for my health during the hectic work week. Because I have wanderlust, my passion for spending time outdoors takes me on the road at least 3 weekends out of every month. I simply feel more alive when I am on-the-go however, there is one aspect of my health that gets neglected when I travel: my digestive system. You see, when I am at home and on a regular regimen it's easy to stick to my diet. When I am traveling I grab convenience foods that aren't always good for me.
Gut health is so important, especially when you want to be regular and feel energetic. When I'm traveling or outdoors I also want to avoid any type of gas, bloating or discomfort so that I can really enjoy the space. I set out to find the best probiotic supplement. I avoid sodas whenever possible but I crave sweet, fizzy beverages all day. I was able to find a probiotic ginger drink called KeVita Sparkling ProbioticTea that is naturally sweetened to replace soda. You can learn more in my Advanced Restorative Probiotic reviews and PreBio Thrive reviews.Now I want something ready-to-drink (RTD) that gives me energy, promotes gut health and supports my weight loss.
I was not sure KeVita Sparkling Probiotic was going to meet my standards for taste or that I would continue to purchase it over time. I decided to put it to the test for a full 60 days in my health regimen and document the results in my health journal. Based on four review criteria I performed a detailed analysis: health benefits, efficacy (does it work), ease-of-use and taste. Then I set out to shopping websites including Amazon.com, and Vitacost.com to find the best-sellers in the probiotic tea category. Beyond that I looked for expert reviews on Labdoor.com to confirm the products are really as good as the label says. Here is what happened when I tried KeVita Sparkling Probiotic tea and got my gut health back!
WHAT DO EXPERTS SAY ABOUT KEVITA KOMBUCHA?
I know that my Gastrointestinal tract (GI) needs attention because I tend to suffer from a range of digestive issues all week. That is why I buy a probiotic powder and now I drink KeVita tea regularly as well. Experts can back up the health claims of KeVita's website that drinking kombucha tea targets the gut to deliver gut balance, immunity and energy. Not to mention the slew of long-term benefits also mentioned like mental health and weight loss.
My take: After trying this product for a full 60 days, I want to tell you about the immediate effects and the long-term benefits of using it. Expert reviewers know that probiotics are top-rated health products. Compared to other best-selling products in the same category, I am going to get into a detailed analysis based on five specific review criteria. Then, you can take a closer look at them side-by-side in a reviewers comparison. So, I decided to give it a try based on the instructions on the website.
I checked some databases for clinical research and as it turns out experts verified these claims. In fact, studies show that taking probiotics may deliver these effects:
Ease of digestion
Gut balance
Immunity
Less gas & bloating
Energy boost
Anti-inflammatory
Feeling of vitality (1-4)
After confirming what the science says about kombucha, I set out to find products I could put to the test. First, I needed to eliminate the worst probiotics in this category. The worst probiotic product that I purchased was the Real Kombucha Kit. It could be that I am simply not a good cook – or fermenter. But the tea was garbage and rotted on my counter. Other customers also had trouble making delicious tea with this starter culture kit you make at home.
KeVita Sparkling Probiotic reviews can show you how to take control of your health with a sweet, bubbly tea. Forget soda! Kombucha or "kom-BOO-cha," is a fermented tea made with sugar, bacteria, yeast and, sometimes, fruit. Known to offer numerous health benefits to the digestive system I was skeptical that this product could really do all of this.
Benefits of drinking KeVita Sparkling Probiotic tea:
Energy
Regularity
Good mood
Mental energy
Fewer sugar cravings
Anti-inflammatory
Antioxidant 5
KeVita is owned by PepsiCo so as you can imagine there are many different flavors and types of kombucha to choose from. The company claims that the sparkling probiotic drink is made for all gut kinds, meaning that it is good for everyone because it contains billions of live active cultures. Unlike yogurt, this travel-friendly probiotic drink is a bubbly tea with a sweet taste that even kids love. The company claims everyone can gain health benefits from drinking this fizzy tea.
In order to find the best probiotic supplement, I needed to read what customers experienced after buying it. I went online and searched the leading competitors for probiotics in Amazon.com, Vitacost.com and Google Shopping. I even went to the GundryMD website to read Energy Renew Reviews to find out more information about the body and how it gets fatigued.
I was able to separate fact from fiction claims in a detailed review process. I recorded the results over the course of two months to really see how the products stack up over time.
Long-term effects of KeVita Sparkling Probiotic include:
Gut balance
Metabolism
Immunity boost
Detoxification
Liver function
Mental health
Weight loss
Clear skin
A feeling vitality
WHO SHOULD DRINK KEVITA KOMBUCHA?
KeVita makes some fun claims about the benefits of kombucha saying their sparkling probiotic drink is made for "all gutkind." I can tell you that my own experience verifies it's all true. I am not a health expert but studies show that taking probiotics may deliver these same types of benefits for anyone who uses it, even children. KeVita Sparkling Probiotic Tea is ideal for anyone who desires better health. Try adding a probiotic supplement to your diet and drink kombucha if you suffer from digestive irregularity, gas and bloating. Probiotic tea may also help with a weak immune system, mental energy and even weight loss.6
"The yummiest probiotic drink ever. I've tried all the sparkling series and loved them all. And best of all they're healthy and contain minimal sugar. Fresh sometimes has a price cut, too, on certain flavors." — Kevin K.
My take: I like to use these fizzy probiotic teas as a replacement for sugary sodas as a treat during the day. At my office, it is easy to cheat on my diet with the vending machine's options like candy, chips and soda for a pick-me-up. Now I drink KeVita for a mid-day energy boost. It not only conquers my sweet cravings but it also boosts my mental power I need for the rest of my day.
I also blend the bubbly sparkling tea with other probiotic supplements as well as my favorite health booster – a passion fruit flavored Vital Reds drink. You can read more about Gundry MD formulas in Energy Renew reviews as I found them educational.
HOW DOES KEVITA WORK?
Fermented probiotic cultures can be found in foods like yogurt, kefir and miso soup but it can be difficult to maintain gut health when you eat processed foods. Probiotic bacteria work to support a healthy digestive system, reduce stomach upset and support energy and immunity by balancing your gut. You see, during digestion your body can get "out of whack," when harmful strains of bacteria take over. Friendly bacteria strains known as "probiotics," help to restore the harmony of your GI tract to eliminate distress like gas, bloating and irregularity.
If you eat grab-and-go foods during the week or you find it difficult to stick to a healthy diet, you're not alone. Millions of people deal with stomach upset simply due to an overgrowth of the "bad," bacteria in the gut. According to Kevita.com simply drinking these natural sodas can help.
DOES KEVITA ACTUALLY WORK?
The scientific experts who validate the health claims make it sound like this is a magical drink that gives you good health. I was not sure that it would even be worth the money to drink a probiotic tea, however, I was really interested in trying it. In fact, I even purchased a DIY Kombucha Kit which did not turn out well. I wanted to know more about kombucha so I tried this product and used it as recommended on the package for 60 days. I can tell you that I experienced many of the health benefits reported by other customers.
"Kevita drinks are my favorite way to reintroduce good bacteria ???? back into my gut after a course of antibiotics. The drinks taste good, not too fermented, which is great if you like to enjoy your drink rather than endure it as with other brands. Lemon & Ginger isn't my favorite flavor but still tastes good enough to keep buying it to break-up my normal routine of flavors from the brand." — Brittany
My take: After just two weeks of replacing sodas with this tea, I felt like I could NOT be without kombucha. From here on I have found one way or another to keep a fizzy probiotic drink close by. Sometimes, I have packets and oftentimes I will keep a 6-pack of KeVita refrigerated just for a sweet, fizzing treat. I know this product works based on the immediate energy I get and the ultra-light feeling in my belly when I drink it every day. You can learn more about how to blend this tea with the Passion Fruit Juice from Gundry MD  in my Vital Reds reviews.
IS KEVITA SAFE?
Talk to your doctor before making any changes in your diet, health or fitness regimen. While everyone is different you may get different results and effects after using this product. Consult with your health professional if you have any negative reactions or concerns about safety.
IS KEVITA DIET FRIENDLY?
KeVita drinks are USDA Certified Organic, non-GMO Project Verified, gluten-free, non-dairy, Kosher and vegan. If you are following a diet you may need to document the results after using this product and keep a journal of the effects.
WHAT ARE KEVITAS COMPETITORS?
Taking a look at expert reviews on Labdoor.com it becomes clear that not all probiotic supplements are created equal. I set out to find only the best-sellers and top-rated products in the category of gut health on leading shopping websites like Amazon.com and Vitacost.com. Here is how they stack up side-by-side:
PreBio Thrive. A game-changer for your gut health! This flavorless fiber mix contains prebiotics – the nutrients to feed your "friendly," gut bugs. It is intended to be used along with probiotics to grow large colonies of beneficial bacteria in the GI tract.
Activated You Probiotic Capsules. This is a powerful formula made with CA capsule technology to deliver a controlled release of 30 unique probiotic bacteria strains. Made to prime the GI tract with "friendly," bacteria strains.
Align Probiotic Supplement . A daily probiotic formula that works with your body 24/7. Ideal if you are eating fast food or suffer with digestive upset like gas or bloating. This top-rated probiotic has s Labdoor score of A – 90.3%.
THE VERDICT: KeVita Sparkling Probiotic tea taste so good you would never know it's good for you. It's refreshing, fizzy taste is ideal refrigerated for a mid-day treat. I know this product works based on the immediate energy I get and the ultra-light feeling in my belly when I add it to my diet. I highly recommend you try this bubbly tea!
KEVITA KOMBUCHA REFERENCES:
Bottom Line: KeVita Sparkling Probiotic reviews show you how gut health is so important, especially when you want to be regular and feel energetic.This bubbly sweet tea can replace soda - and it's good for you! Find out how it stacks up against other gut supplements.
PROS
Gut health
Energy
Probiotic supplement
Great taste
CONS
Glass bottle
Needs refrigeration
Not a leaky gut cure
Specification:
KEVITA SPARKLING PROBIOTIC REVIEWS: EVERYTHING YOU NEED TO KNOW
| | |
| --- | --- |
| type-of-consumable | Liquids |
| dietary-friendly | Gluten-Free, Organic, Vegan, Vegetarian |

KEVITA SPARKLING PROBIOTIC REVIEWS: EVERYTHING YOU NEED TO KNOW