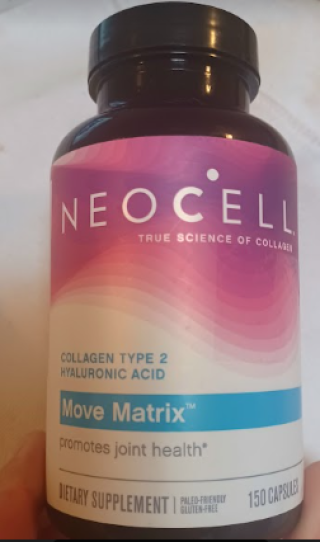 NeoCell Move Matrix is the ideal formula for women who work out. Exercise is an essential part of a healthy lifestyle. In fact, as you may already know the next part of a fit body is an exercise that can take a toll on your body, especially joint tissue. Aching muscles and joints can drain my energy and I always keep skin care in mind. NeoCell Move Matrix supports the skin matrix with vital nutrients to support collagen development. Made with type II collagen this formula also includes nutrients that promote cartilage and connective tissues for exercise recovery. I was excited to try it myself so I purchased NeoCell MOve Matrix online and had it delivered to use it along with my regular supplement regimen. Based on a usage schedule and regular workouts, here is how NeoCell Move Matrix worked for me based on five specific review criteria.
WHAT DO THE EXPERTS SAY ABOUT NEOCELL MOVE MATRIX?
ConsumerLab listed NeoCell Move Matrix as one of the top-rated collagen supplements in the skin and joint category. Looking into additional sources to find expert reviews on NeoCell Move Matrix I found that ConsumerLab listed this product as one of the leaders with advanced ingredients for collagen production and range of motion. As one of the most expensive collagen supplements for skin and joint health, NeoCell Move Matrix was recommended to me by a workout partner a couple of times as an alternative to bone broth.
WHAT DO CUSTOMERS SAY ABOUT NEOCELL MOVE MATRIX?
Dietary supplement customer reviews on Amazon.com, AllStarHealth and Walmart.com reveal that people usually have the same results using collagen supplements like NeoCell Move Matrix for beautiful skin and pain management.
"Help me since I used this product. Very effective to me and to my body which I love." — Rhen
"I ripped my Meniscus and because I didn't have insurance I had to let it heal. I took this for the first couple months and as soon as I stopped taking it I noticed a difference with more aching pain and stiffness in my knee." — Jilm Jehnsons
THE FIVE CRITERIA: HOW DOES NEOCELL MOVE MATRIX WORK?
As a personal trainer, my fitness regimen for building muscle mass goes hand-in-hand with my healthy skin. You see, not only do the soft tissues of my skin and joints need the same nutrients but they also follow the same timeline. When I exercise the sweat releases toxins making my skin primed for skin care. Post-workout, soft tissue compression can cause pain and loss of flexibility due to intensity or weight bearing. This is the reason I couple my skincare regimen with my post-workout routine for muscle aches. Plus, the capsules can be opened and added into a healthy shake, to make the proper usage easier to swallow. Usually, I drink IdealFit IdealLean Protein Shake for Women reviews, to support my specific nutritional requirements for muscle mass.
I wasn't sure NeoCell could stack up to my five review criteria so I took careful notes on each of these categories based on customer ratings.
Health Benefits. Using the NeoCell Move Matrix delivers a variety of benefits to connective tissues of the body. Users notice skin health from support for the key structural proteins in the cartilage tissue – Collagen Type 2. It's also helpful for acne scars,
Efficacy. The body produces cartilage tissue based on the amount of Collagen Type 2. The Move Matrix includes everything needed to rebuild the skin and joint tissue for flexible knees. A super collagen booster!
Ease-of-Use. It couldn't be easier to use NeoCell Move Matrix because they are easy-to-swallow capsules. I usually break apart the dosage and take one every few hours.
Taste. I didn't notice any flavor taking the dosage however, I prefer to mix these with a meal replacement shake to increase the amino acids with these. With so many types of collagen, NeoCell is an ideal alternative to bovine collagen production supplements.
Expert Review. Out of those selected, ConsumerLab chose NeoCell Move Matrix as one of the top picks for joint pain. Additionally, this super collagen supplement delivers everything your skin needs to age beautifully.
WHAT IS IT? A CLOSER LOOK AT NEOCELL MOVE MATRIX
I already have a skincare regimen both for topical products as well as collagen powders. You can learn more about what I am currently taking in Beverly Hills MD Skin Reviews. Realizing that I needed more support for aching joints and the skin matrix I found this formula which supports my natural beauty from the inside out at every age.
Taking a closer look into my collagen health, popular ingredient list items became interesting as I worry about the appearance of scars as well as joint and skin-related signs of aging. To maintain soft, cushion joints for exercise, and even to reduce the appearance of stretch marks I developed an interest in NeoCell as an ideal way to support my diet.
IS NEOCELL MOVE MATRIX RIGHT FOR ME?
Answers from reviewers showed how to utilize NeoCell Move Matrix for the appearance of scars, nail appearance, body composition, skin health, to cushion joints, and to support a poor human diet with essential nutrients for joint and skin-related signs of aging. Additionally, bodybuilders, runners and extreme athletes find this formula helpful as it aids in the restoration of soft, connective tissues. You can find more information on this and other formulas by NeoCell Corp. Inc. on their website.
DOES NEOCELL MOVE MATRIX REALLY WORK?
As we grow older the skin's premature aging can set in as early as 25 years old. Today, many young men and women are exercising preventative aging strategies that include collagen II. NeoCell Move Matrix includes a range of ingredients scientifically formulated to address the signs of aging or overuse. Made to support the structural framework of connective tissues like the skin, joints and cushioning to help everyone age beautifully from the inside out.
While the comprehensive formula provides 12 unique ingredients three ingredients provide the foundation for NeoCell Move Matrix:
WHAT DOES NEOCELL MOVE MATRIX TASTE LIKE?
I was worried that every form of collagen may taste bad. These capsules do not have a flavor. I find it's always best to consume popular collagen products along with a healthy shake. You can learn more about my favorite drink mix in Gundry MD Vital Reds reviews. Or if you prefer, try a chocolate protein shake and learn how to build strong muscles and bones in High-Impact Protein Shake reviews.
HOW DO I USE NEOCELL MOVE MATRIX?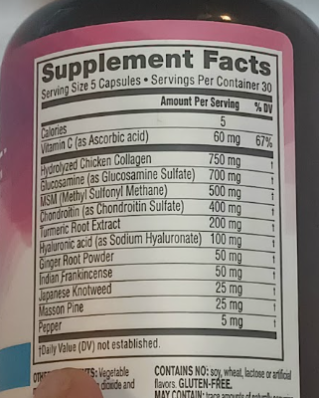 Follow the instructions on the bottle and take up to five (5) capsules per day. I highly recommend spacing out your doses with a two-hour window throughout the day. Alternatively, you can take two capsules at a time. Use this for the production of collagen along with other supplements for collagen health.
Talk to your doctor about specifications for beauty, joint problems or other health concerns. NeoCell Move Matrix works to improve the elas
ticity of collagen and increase the strength of joints for healthy adults. Works best to boost a limited diet along with regular exercise to reduce the risk of chronic conditions.
IS THE NEOCELL MOVE MATRIX LEGIT?
The formula is designed with a blend of ingredients shown to work together for optimal results. Approaching a range of health concerns including joint pain, flexibility and anti-aging, NeoCell Move Matrix includes these natural and oh-so-legit ingredients:
Other ingredients include ginger root powder, Indian frankincense, Japanese knotweed, and Mason pine.
IS NEOCELL MOVE MATRIX SAFE?
This is a formula designed for adults over the age of 18. Check with your doctor to learn more about addressing your medical condition. For healthy people, the regular dosage unless otherwise directed.
Contact NeoCell customer service with questions or customer complaints.
IS NEOCELL MOVE MATRIX DIET FRIENDLY?
NeoCell Move Matrix provides a combination of ingredients including chicken or beef derivatives and gelatin that may not be suitable for vegetarians and vegans. If you follow a limited diet you may want to know this is a gluten-free diet and contains no soy, wheat, lactose or artificial flavors.
WHAT ARE NEOCELL MOVE MATRIX COMPETITORS?
The competition for this category is mixed because this is a comprehensive formula that includes ingredients for two separate health categories of youthful skin and healthy joints. With so many ways to approach the concerns, I found these products work best together for beautiful skin and joint cushioning.
Life Extension NAD+ Cell Regenerator. Life Extension NAD+ Cell Regenerator reviews show you how to use this cofactor to antioxidant capacity. I recommend Life Extension NAD+ to people for anti-aging benefits, energy, metabolism, and cognitive functions.
Nature's Bounty Hair, Skin & Nails. Nature's Bounty Hair, Skin & Nails reviews show how this skin support formula with a mega-dose of biotin for strong hair and additional beauty benefits like nail health. This tasty gummy gives me Vitamin C which aids in collagen growth for smooth, skin health during any decade.
BHMD Dermal Complex. BHMD Dermal Repair Complex reviews revealed that this top-of-the-line product provides the same star ingredients of NeoCell. Offering MSM for skin, hydrolyzed collagen along with hyaluronic acid it's the ideal pairing to my skin and joint care supplement stack.
NeoCell Move Matrix reviews show how to address skin care and joint health in one supplement. Ideal for women who workout, this capsule contains what my body needs to maintain beautiful skin and recover from exercise. Recommended for joint pain, flexibility and anti-aging.
PROS
Skin & joint health
Joint comfort & flexibility
Anti-aging benefits
Collagen II booster
Hyaluronic acid
Non-GMO
CONS
Capsules servings
Large dosage
Not vegetarian friendly