Isagenix Review: Everything You Need to Know
Bottom Line: Isagenix offers a wide range of products with an even wider range of success levels. Historically, people who already use a restricted-calorie diet are most likely to experience success with Isagenix products. You will lose weight, but it won't be sustainable over the long term.
$22.67
Best deal at:
Amazon.com
Buy for best price
Last Amazon price update was: June 12, 2019 7:34 am
×
Product prices and availability are accurate as of the date/time indicated and are subject to change. Any price and availability information displayed on Amazon.com (Amazon.in, Amazon.co.uk, Amazon.de, etc) at the time of purchase will apply to the purchase of this product.
Add to wishlist
Added to wishlist
Removed from wishlist
0
Isagenix Review: Everything You Need to Know
Description
Bottom Line: Isagenix offers a wide range of products with an even wider range of success levels. Historically, people who already use a restricted-calorie diet are most likely to experience success with Isagenix products. You will lose weight, but it won't be sustainable over the long term.
PROS
Well-known company
High-protein
Lots of diversity in products and flavors
CONS
Company may be less than ethical
No positive science evidence for most products; in fact, most products were seen adversely in studies
Complaints about taste and success
Add your review
|
Read reviews and comments
If you're familiar with the MLM circuit, chances are you may know someone who sells Isagenix products. They have a full line of health products, but their most popular one is a meal replacement shake that promises not only to help you lose weight but to help you build lean muscle while you do it.
I decided to give their products a try to see if they lived up to their claims. As part of my trial, I also took a close look at the company itself,  the ingredients they use, the science behind the products, and more. Ultimately, I wrote this review to share my experience and help you decide if this is a product line you should invest in to help you reach your own weight loss goals. 
Some of you may find what I have to say a bit shocking.

____________
If you'd like to try it for yourself, Isagenix can be purchased through Amazon or using their Official Site.
1. What Is It: A Closer Look at Isagenix
A Multi-Level Marketing (MLM) company, Isagenix offers weight management products, including meal replacement shakes, cleanses, and even essential oils.
Theoretically, Isagenix products promote a healthy, active lifestyle; however, there is some question about their ability to deliver on their promise. Sure, there are some who are successful, but it seems those are the ones who are already doing their best to live a healthy lifestyle – eating a reduced calorie diet and getting plenty of exercise.
2. History of the Brand: How Did Isagenix Start?
Founder John W. Anderson developed Isagenix as a partnership with Jim and Kathy Coover, who had experience in the direct selling industry. They founded the company in 2002. According to their website, "Isagenix leads with science-backed products and continues to put them to the test. By partnering with well-respected universities and laboratories, Isagenix is contributing to evidence-based nutritional research while also providing clinical substantiation for Isagenix Systems for healthy weight loss and healthy living."
My problem with these health MLMs is you're trusting someone who doesn't have any background in health and wellness, most of the time anyway, to sell you something. They make money whether you succeed or not, so they aren't motivated to make sure you succeed.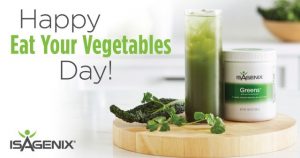 3. Types of products
Their offerings cover a wide range of products, but Isagenix offers things like:
Weight-loss supplements

Protein Shakes

Multivitamins

Protein Bars

Snack foods

Hunger control supplements and more
The 30-day system includes:
Isalean Shakes – whey and milk protein-based meal replacement shakes that have 24 grams of protein and 240 calories per serving.

Ionix Supreme – a product full of sweeteners, vitamins, and adaptogens that claims to support focus and clarity, while also normalizing the body's systems.

Cleanse for Life – a liquid product also full of sweeteners, vitamins, and herbs that claim to eliminate fat and support the body's natural detoxification systems

Isagenix Snacks – chewable snacks made with milk-based proteins and sweeteners with a blend of other ingredients

Natural Accelerator – capsules made with a blend of vitamins and herbs that claim to boost metabolism

Hydrate Sticks – a powdered drink mix made with vitamins, minerals, electrolytes, and sweeteners meant to be mixed with water.

IsaFlush – a supplement featuring an herbal blend and magnesium that claims to support a healthy gut.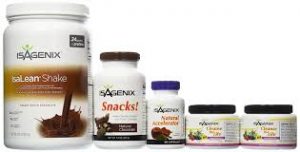 4. Isagenix Ingredients
Aside from vitamins and minerals, the Isagenix shake has the following ingredients:
Whey Protein (19.7%), Calcium Caseinate, Milk Powder, Fructose, Sunflower Oil, Natural Cocoa Powder, Vanilla Flavour, Lecithin, Olive Oil, Flax Seed, Guar Gum, Tri Calcium Phosphate, Xanthan Gum, Fibersol, Cellulose, Chocolate Flavour, Salt, Beta Carotene, Honey Powder, Magnesium Oxide, Irish Cream, Acidophilus, Alfalfa Juice Concentrate, Soy Lecithin, Lactase, Psyllium Seed, Silicon Dioxide, Cinnamon, Mixed Tocopherols, Kelp, Wild Yam.
CLenase for Life contains: Nicotinamide (Vit B3) 700 mcg, Pyridoxine Hydrochloride 640mcg, Cyanocobalamin (Vit B12) 0.9mcg, Potassium citrate 37.5mg (Equivalent to 13.5mg potassium), Aloe barbadensis (Aloe vera) inner leaf powder 157mg
Concentrated herbal extracts equivalent to: Vaccinium myrtillus (Bilberry) fresh fruit 1g, Withania somnifera (Ashwagandha) dry root 362.5mg, Rubus idaeus (Red Raspberry) fresh fruit 1.3g, Foeniculum vulgare (fennel)dry seed 140mg, Arctium lappa (burdock) dry root 600mg, Rhodiola rosea (Rhodiola) fresh root 100mg, Eleutherococcus senticosus (Siberian Ginseng) dry root 90mg, Glycyrrhiza glabra (Liquorice) fresh root 90mg, Mentha piperita (peppermint) fresh leaf 80mg, Curcuma longa (Tumeric) dry root 87.5mg and Medicago sativa (Alfalfa) equiv. whole plant juice 250mg, Choline Bitartrate 5mg, Inositol 5mg, L-Methionine 5mg.
5. Where is it manufactured?
According to company literature, more than 95% of the Isagenix products are manufactured in the United States – and all of them are made to comply with international standards for supplements. We don't know where the remaining portion of their products is made.
6. Who's 
Isagenix 
For?
According to the company, it's for everyone from children to seniors who want to live a healthy life. They offer products for all ages and medical concerns. Some products are even considered safe for use during pregnancy.
7. How Does 
Isagenix
Work?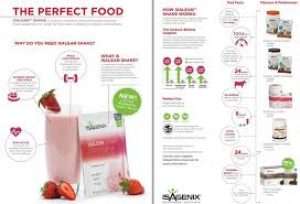 The 30-day plan is made up of shake days and cleanse days. On shake days, you're supposed to replace two meals a day with the Isalean shakes. The third meal should be a healthy meal of 400 to 600 calories.
During the shake days, you also take supplements and can use the Isagenix snacks twice a day. 
On cleanse days – once or twice a week – you skip meals and drink four servings of the Cleanse for Life drink, eat small amounts of fruit and consume the Isagenix approved snacks.
At the end of the 30 days, you are supposed to either start again or try another Isagenix system.
8. Does Isagenix Work?
Yes, but this is because of the calorie restriction and intermittent fasting, which can be done with or without the Isagenix products.
9. Isagenix Benefits and Results
In all honesty, Isagenix is nothing special. There are tons of fillers and unnatural ingredients in their products that can wreak havoc on the endocrine system (soy and high fructose corn syrup, for instance) and can disrupt any chance at weight loss.
Many reviews come from distributors, who are biased since they benefit from selling the products. Even if there is truth in the reviews, it is hard to believe it.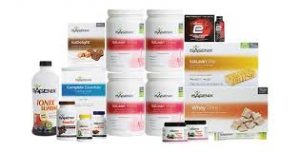 10

. 

As far as taste goes…
Some of the products taste okay, but most people aren't that impressed by what they've tried and often add to the shakes with berries or other flavors (increasing sugar and calories). Many reviews talking about "weak" flavors or a chalky aftertaste.
11. Isagenix Side Effects
Consuming too much protein can come with negative side effects since the body can only absorb a certain amount of protein every hour. Too much protein can lead to diarrhea and other gastrointestinal issues. You may also end up with nausea or an upset stomach if you are lactose intolerant.
12. Isagenix Product Warnings
Isagenix products are not FDA approved. As such, you should speak to a doctor before using any of the products, to make sure you are healthy enough to use them. If you are dealing with certain medical conditions or using prescription medication, Isagenix may not be the best solution for you.
13. Any Isagenix Lawsuits?
Yes. In 2012, Isagenix was part of a lawsuit alleging they intentionally destroyed a competitive business, though no information could be found about the outcome of that case. In another case that year, where we also couldn't find the verdict, Isagenix was sued for not having the Proposition 65 warning on their products – required in California for products that contain chemicals that are known to be toxic.
14. Customer Reviews on the Web: What Users Are Saying
"The newly improved Isagenix is a huge waste of a lot of money. The texture is slimy, thick and tough to swallow. The taste is not pleasant and you best be near a bathroom because the term 'cleans you out' is an understatement." – Julie L.
"Follow the plan and you will see results. After losing 20lbs on my own (eating right/exercise) — I had a stubborn 10-15lbs that I had been struggling to lose for months and months. A friend of mine tried Isagenix and I was impressed with her results and decided to try it for myself. After 30 days on this system, I have lost 12lbs and I am at my goal weight. I couldn't be more pleased! I'm a huge fan of the Chocolate Shakes – didn't love the Vanilla Shake! Good luck – as with anything you have to stick with it to see results." – CJH
15. Isagenix Competitors
There is certainly no shortage of meal replacement shakes available on the market today, meaning there is lots of competition out there for Isagenix. These include:
Vega One

Shaklee

18 Shake

310 Shake

Plexus

Medifast

21 Day Fix
16. Would Isagenix Work with Your Diet?
Isagenix would work best with diets that favor high-protein and calorie restriction. Due to the high soy, dairy, and high-fructose presence in many of its products, it would NOT be a fit for the following diets:
Paleo

Gluten-free

Dairy-free – unless you opt for the dairy-free options that are available.

Soy-free

Organic

Vegan

Keto
17. Verdict: Would I Recommend Isagenix?
As much as I'd like to be able to recommend Isagenix, I can't this time around. There are simply too many unhealthy ingredients present in their formulas for me to feel good about it. 
Instead of an Isagenix meal replacement shake, it's best that you focus on a product that has:
15 or more grams of protein per serving

3 or more grams of fiber per serving

Less than 10 grams of sugar per serving

No corn syrup

No hydrogenated vegetable oils

At least 1/3 of your daily recommended intake of vitamins and minerals.
If you'd still like to try their products, there are several promotional codes, like this one for $50 off your order, out there so you can try for yourself.
My advice? Just be realistic about your expectations and get as much information as you can before taking a supplement or food product.
Isagenix can be purchased through Amazon or using their Official Site.
Bottom Line: Isagenix offers a wide range of products with an even wider range of success levels. Historically, people who already use a restricted-calorie diet are most likely to experience success with Isagenix products. You will lose weight, but it won't be sustainable over the long term.
PROS
Well-known company
High-protein
Lots of diversity in products and flavors
CONS
Company may be less than ethical
No positive science evidence for most products; in fact, most products were seen adversely in studies
Complaints about taste and success
Additional information
Specification:
Isagenix Review: Everything You Need to Know
| | |
| --- | --- |
| Dietary Friendly | High-Calorie, High-Carb, High-Fiber, High-Protein, Low-Acid, Low-Calorie, Low-Carb, Low-Fat, Low-Sodium, Natural, Nonfat, Sodium-Free |
Related Products