Add to wishlist
Added to wishlist
Removed from wishlist
0
Add to compare
MONSTER ENERGY reviews show how to boost your energy and fight fatigue. Just one can of this energy drink delivers 160 mg of caffeine and 54 grams of sugar. I recommend Monster Energy if you want a "Big Bad Buzz." 
WHAT IS IT? A CLOSER LOOK AT MONSTER ENERGY
MONSTER ENERGY reviews from athletes, musicians, anarchists, road warriors, geeks, hipsters, and others show how to tear into a can of the meanest energy drink. If you are looking for a powerful punch of energy without a bad buzz you might like the sweet and salty taste of MONSTER ENERGY. Customer reviews of the best-sellers in the energy drink category on Amazon.com and iHerb.com helps me to see how this proprietary energy drink works. Expert reviews on Labdoor.com showed that this is not a top-rated product due to potentially harmful side effects; however, I still drink it when I feel really fatigued. 
I needed to find other ways to boost energy levels during the day so I tried Monster Energy along with top-rated products in the same category. Recording my results is essential to the review process so I created a health journal that includes details about what I ate, my weight loss and my energy levels over a 90-day trial period. Here is what happened when I tried MONSTER ENERGY based on four review criteria: benefits, efficacy (does it work), ease-of-use and of course taste.
WHAT DO THE EXPERTS SAY ABOUT MONSTER ENERGY?
Labdoor expert reviews show that MONSTER ENERGY is not a top-rated product with a low Labdoor score of 57% F.
"One serving of Monster Energy Drink measured 83.7mg caffeine, over its label claim but below the 105.1mg average caffeine content serving in this category. Furthermore, vitamin B3, B6, and B12 content was understated by label claims, with a single serving exceeding 100% of the Daily Value (DV) of B3 and 2x the DV of B6."
MONSTER ENERGY received the highest score from expert reviewers in product purity however, it scored low in categories including nutritional value, ingredient safety and projected efficacy.  
WHAT DO CUSTOMERS SAY ABOUT MONSTER ENERGY?

Reading customer reviews for MONSTER ENERGY I found that this is the favorite energy drink for many people. Here is just a sample of what I found out about customers who love MONSTER ENERGY and their results. 
"Well, it's what I paid for. It's probably enough caffeine to drop an elephant, so that's nice." — Alex D.
"If you are buying 24 of these you probably know what Monster Energy is. But if you don't for energy drinks its super sugary, like coke or pepsi sugary. I recommend Monster on Ice because of this. One monster is your daily limit of sugar by health associations. Just as a warning. You drink this and you will get a mild hangover if you don't treat it properly." — Joanna L.
"I like the flavor and the energy provided. I have been working nights for 22plus years and since these came out I have been using them as a crutch to survive night shift issues. They work and I have tried most of the drinks I can. Green monster always wins. My daughter only drinks the white monster. All in all I have literally had thousands of them and keep expecting health issues but my latest physical came back excellent. So much for all the energy drinks will kill you comments." — Phil A.
My take: MONSTER ENERGY is NOT for everyone. In fact, if you have caffeine sensitivity, you should avoid drinking this energy supplement. I have a very busy schedule as a fitness trainer that keeps me in the gym Monday – Saturday with one rest day. I also know the limits of my body and use this as a dietary supplement. I want to push my body to the full potential mentally and physically during intense workouts and Monster Energy works. However, there are numerous health warnings for overusing this energy drink and abusing it as a supplement. 
THE FOUR CRITERIA: HOW DOES MONSTER ENERGY STACK UP?
Here is how MONSTER ENERGY stacks up based on the four review criteria:
Benefits. I noticed similar effects that I read about in MONSTER ENERGY reviews. Like many people, I had energy, stamina and endurance after adding Monster Energy drink to my daily regimen. I was able to push harder through workouts at the gym and also crashed harder after extreme exercise for deeper sleep. 

Efficacy (does it work). MONSTER ENERGY does deliver fast energy and stimulates a sense of endurance. If you drink just one can, you get 160 mg of caffeine and 54 grams of sugar so you will feel a burst of energy that the company calls a, "Big Bad Buzz." I do not recommend drinking more than one of these in a day.

Ease-of-Use. MONSTER ENERGY is as easy to use as a soda for refreshment. It is a sugary drink with a sweet flavor that is easy to love. It's easy to have a Monster Energy drink anywhere because they are commonly sold at convenience stores, however, over consumption of these is not recommended.

Taste. MONSTER ENERGY has a unique flavor that is refreshing, and slightly tangy. Similar to Mellow Yellow, and Mountain Dew it almost tastes like citrus but with an extra bite. The carbonated sugary energy drink tastes best served fresh, and cold. 
WHAT IS IT? A CLOSER LOOK AT MONSTER ENERGY 

MONSTER ENERGY does give you energy however, it is not a top-rated product and may cause side effects for people with caffeine sensitivity. This drink is a stimulant formula with 60 mg of caffeine in just one 16 ounce can and exceeds the daily recommendation for sugar in a single serving. Each can contains 200% of some B complex vitamins including niacin and riboflavin at 210 calories.
MONSTER ENERGY ingredients: Carbonated water, sugar, glucose, citric acid, natural flavors, taurine, panax ginseng extract, guarana extract, L-carnitine, L-Tartrate, Caffeine and others. 
MONSTER ENERGY provides ingredients known to reduce mental fatigue, boost physical energy and deliver a big buzz to jumpstart your metabolism. It is not recommended for people with health problems or sensitivity to stimulants so talk to your doctor before adding this energy drink to your dietary supplement regimen. 
IS MONSTER ENERGY RIGHT FOR ME?
MONSTER ENERGY is right for you if you need a mega-dose of caffeine. If you are a healthy adult you can try this energy supplement but it is important to talk to your doctor about your health to make sure this is the right energy drink for you. If you have caffeine sensitivity, you can learn more about non-stimulant energy drinks in Energy Renew reviews. Monster Energy drink comes in a variety of styles and flavors that include (my favorite) Monster Zero Ultra, and Java Monster. 
MONSTER ENERGY is not a soda. It is more like a dietary supplement used to boost your energy and mental stamina. However, many people make the mistake of drinking Monster Energy drink like a soda and over dose on the powerful ingredients causing side effects. I noticed if I drink more than one of these per day I get the "jitters," and can feel like I crash at the end of the day. 
DOES MONSTER ENERGY REALLY WORK?
MONSTER ENERGY does deliver on it's promise to give you a big bad buzz but when it comes to lasting energy, I feel like this drink falls short nutritionally. Because it tastes so good, Monster Energy is always a tempting choice above soda or water if I need refreshment and feel tired or have long hours to put in at work, or at the gym. I know it works because Monster Energy makes those long days easier, but it also does make me feel a crash when the buzz wears off which can be dangerous if I drink it too early in my day. You can learn more about my health regimen and nutrition timing in Luna Bar reviews. 
Monster Energy main ingredients:
WHAT DOES MONSTER ENERGY TASTE LIKE?
MONSTER ENERGY has a unique flavor similar to citrus but with more of a tangy bite. It is hard NOT to like the taste of Monster Energy's smooth flavor especially when it is ice cold. I do not recommend drinking Monster Energy drinks warm or hot even though it does not require refrigeration.  Because it is carbonated, the taste of Monster Energy drink is best freshly opened. You may decide to mix it with juice or other formulas like in Vital Reds reviews. 
HOW-TO USE MONSTER ENERGY
MONSTER ENERGY can be used to boost your energy levels to fight off fatigue, boost your endurance levels, reduce mental stress and support muscle recovery. MONSTER ENERGY does not require refrigeration however, the drink tastes best served ice cold. I like to drink it right out of the can for a caffeine buzz and a burst of energy if I need to power through a long day, workout or project. 
DOES MONSTER ENERGY CONTAIN TOXIC INGREDIENTS?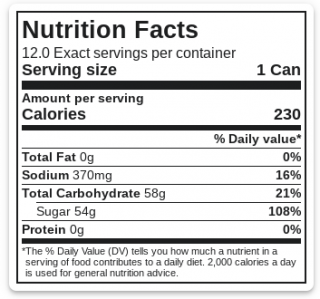 MONSTER ENERGY reviews show that this supplement contains some controversial ingredients including mega-dose caffeine, high amounts of sugar, benzoic acid and sucralose (a sweetener). MONSTER ENERGY is considered to be safe for consumption for anyone over the age of 18 however, the products do offer warnings for health and usage. 
IS MONSTER ENERGY SAFE?
MONSTER ENERGY comes in a can and many of the products do not have a bottle that closes. Without a lid, it is difficult not to drink 2 servings of the supplement all at once – every time. Just one serving of Monster Energy provides 54 grams of sugar which is over the daily limit by the American Heart Association.
The Monster Energy company includes warnings on product warnings for children, people sensitive to caffeine, pregnant women or women who are nursing. The company also suggests that you limit yourself to 3 cans per day which based on expert reviews can be harmful to your health. Talk to your health care provider if you experience any health problems after adding this energy drink to your daily regimen. 
WHAT ARE MONSTER ENERGY COMPETITORS?
Shopping online, I want to make sure I am getting the best-selling product for the best price. I read customer reviews for MONSTER ENERGY on Amazon.com, and iherb.com along with the expert reviews for the top-rated products on Labdoor.com. Here are the best protein supplements according to my analysis: 
Energy Renew

. A doctor formulated alternative to energy drinks, this polyphenol rich mix is a superfood blend designed by Dr. Steven Gundry. Ideal as a base for an energy drink juice, I like to blend this mix with water, and add ½ a serving of 5-Hour Energy in the Berry flavor into the juice. You can read more in my

Energy Renew reviews

how I also stack these supplements with Vital Reds, a Gundry MD flagship product.

5-Hour Energy. 5-HOUR ENERGY reviews show you how to boost your energy in under 5 minutes. Unlike regular energy drinks the 5-HOUR ENERGY shots work fast to boost your energy levels. Labdoor expert reviews show that 5-HOUR ENERGY is a top-rated product. This energy bar received a Labdoor score of 69.6% D, by expert reviewers.
NOW Foods CoQ10. NOW Foods CoQ10 reviews show you how this vitamin-like substance works as a cofactor of AMPK — the cellular activator. Also a metabolic booster,  this supplement works slightly differently to boost energy and metabolism. This product is a high-quality product verified with expert reviews with a Labdoor score of B – 88.2%
THE VERDICT: WOULD I RECOMMEND MONSTER ENERGY?
MONSTER ENERGY is an ideal dietary supplement for those times when you really need to find a way to power up. I recommend you try Monster Energy drink if you have never used it and you do not have caffeine sensitivity. I like MONSTER ENERGY's refreshing taste but prefer the low-sugar varieties best. Try one. Served cold, they all taste amazing! 
MONSTER ENERGY reviews show how to boost your energy and fight fatigue. J
ust one can of this energy drink delivers 160 mg of caffeine and 54 grams of sugar. I recommend Monster Energy if you want a "Big Bad Buzz." 
PROS
Jolt of energy
Big, Bad buzz
Metabolism boost
Smooth & refreshing
CONS
Can cause jitters
High sugar
Controversial ingredients
Possible side effects

MONSTER ENERGY REVIEWS: EVERYTHING YOU NEED TO KNOW