WHAT IS IT? A CLOSER LOOK AT PACIFICA LIP TINT
Pacifica Lip Tint reviews show you how this is an anytime color. I tried this product for the purpose of a detailed review. You see, I have tried all types of different lip products including lipstick, lip gloss, lip plumper and more. Lip color that offers deep moisturizer is a must-have but I wanted to compare it to other products in the same category. I found the best-sellers based on customer reviews from Amazon.com, vitacost.com and iherb.com then I looked at expert reviews on EWG.org to confirm which products are really top-rated. Take a closer look at what happened when I tried it based on four essential review criteria: benefits, efficacy (does it work), ease-of-use and of feel.
WHAT DO THE EXPERTS SAY ABOUT PACIFICA LIP TINT?
EWG.org expert reviews show how this is one of the best lip products on the market. Regardless of which color you purchase, Pacifica Lip Tint received a very high EWG score of 2 from expert reviewers.
" … for safety according to the methodology outlined in our Skin Deep Cosmetics Database. We assess the ingredients listed on the labels of personal care products based on data in toxicity and regulatory databases, government and health agency assessments and the open scientific literature. EWG's rating for Pacifica Color Quench Lip Tint, Coconut Nectar is 2."
WHAT DO CUSTOMERS SAY ABOUT PACIFICA LIP TINT?
Pacifica Lip Tint reviews show how people use this product every day.
"I love all the color quench lip tints. They add a very light color with a little luminescence and great moisturizing for dry lips, and they smell delicious!" — Barb Kaye
"Pretty and subtle. I don't wear much makeup but this is a nice way to add subtle color and sparkle." — Becky G
My take: There is a perfect time and place for a hint of color. Pacifica Lip Tint ultra-moisturizing and have a shimmery, gloss finish. With just a touch of color, this is an ideal lipstick for everyday use.
THE FOUR CRITERIA: HOW DOES PACIFICA LIP TINT STACK UP?
Pacifica Lip Tint is a delicious smelling lip shimmer with natural ingredients. The good-for-your skin formula is gentle and never tested on animals. Here is how Pacifica Lip Tint stacks up based on the four review criteria:
Benefits: Some lipsticks add color but can leave your delicate lip skin dehydrated. Pacifica Lip Tint adds all of the moisture with none of the toxic ingredients found in some of the leading lipstick brands. When used as a base coat Pacifica Lip Tint adds deep moisture and just a touch of color with an ultra-smooth shimmer.
Efficacy (does it work): I replaced my colorless lip gloss with this durable tube of Pacifica Lip Tint. It's double-duty versatility makes it even more valuable because I was able to replace cheap lip glosses and shimmers which may contain toxins. I love the barely-there color of every shade and the high-shine finish.
Ease-of-Use: Just like a tube of handy chapped stick, this lip tube packs extreme moisture. Toss it in your pocket for anytime moisture with a pop of color in any shade.
Feel: one of the most noticeable things about Pacifica lip tint is the way that it feels on your lip. When my lips are dry, and dehydrated it feels like they are instantly soothed and rejuvenated with this lip color. This is an alternative to lipgloss with an ultra-shimmery shine.
WHAT IS IT? A CLOSER LOOK AT PACIFICA LIP TINT 
With a touch of your favorite colors, use Pacific Lip Tint for luscious and healthy lips.
Pacifica Lip Tint ingredients:
Avocado oil
Coconut oil
Cocoa butter
Vitamin E
Mineral color
IS PACIFICA LIP TINT RIGHT FOR ME?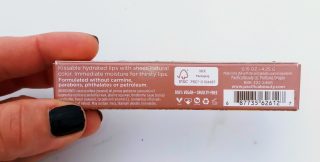 Pacifica lip tint is right for you if your lips need moisture and color. This lip color offers just a hint of shade in a tube that fits right in your pocket. Ideal for on the go look and color that is never too much, Pacifica Lip Tint works for me at the gym, the office and as a shimmer or base coat. Made with natural ingredients, and cruelty-free color, Pacifica Lip Tint is for you.
DOES PACIFICA LIP TINT REALLY WORK?
While the health claims are backed up with scientific data from experts, I still wasn't convinced. After all, everyone is different and you will have different effects but it worked! My results are also mentioned by customer reviewers. Be patient with your results, stick to healthy habits and you will get benefits, too!
WHAT DOES PACIFICA LIP TINT FEEL LIKE?
The texture of this is unlike ChapStick in that it is super glossy and has a smooth Glide. However it comes in a solid stick that is just like regular chap lipstick. The hint of flavor is slightly sweet and spicy and it goes perfectly with the color.
HOW-TO USE PACIFICA LIP TINT
Apply this lip color anytime you need moisture, gloss, or a shimmering glow. Pacifica lip tint is ideal for creating an illusion of plumping for a pretty pucker. Simply open the packaging and pop off the lid. Screw the base to the left to increase the length of available lipstick. Then glide the stick across your upper and lower lips as often as you like for color or moisture.
IS PACIFICA LIP TINT SAFE?
Pacifica is a company dedicated to creating cruelty-free formulas that are safe for use by everyone! You can know that if you use this lip color it is completely safe even if you have sensitive skin. Share Pacifica Lip Tint with your friends and family because it's safe for them too.
NOTE: While this product is considered safe to use for everyone, talk to a dermatologist if you have any allergies or negative reactions.
ARE PACIFICA LIP TINT CONTAIN TOXIC INGREDIENTS?
Pacifica is a brand that made a commitment to customers for cruelty-free formulas. You can count on this lip color to contain ingredients that were never tested on animals and are completely safe even for sensitive skin types. Pacifica Lip Tint does not contain toxic ingredients so you can use it as many times as you want.
WHAT ARE PACIFICA LIP TINT COMPETITORS?
Shopping online, I want to make sure I am getting the best-selling product for the best price. Here are the best sellers from Amazon.com, iherb.com and vitacost.com along with the top-rated products based on expert reviews from EWG.org.
Wet 'n Wild Color Icon. Lip smacking shine and an ultra-thick gloss is all good. I use this along or as an enhancer to lip liner as a top coat for long-lasting shine. This is a high-rated lip gloss with expert reviews from the EWG.org. EWG's rating for Wet 'N Wild Color Icon Lip Gloss, is 3.
E.l.f. Plumping Lip Gloss. This is a rich lip gloss that includes a soft-tip wand. I love using this plumper alone to give my lips extra volume. It also works double-duty as a finisher for added shine. A top-rated lip plumper with expert reviews from the EWG.org.
Beverly Hills MD Anti-Aging Lip Plumper. This lip plumper is unlike any other, because it is formulated by real doctors with anti-aging ingredients. Delivers instant results from hyaluronic acid spheres for a long-lasting smoothing and plumping effects. This is a top-rated product as you can learn in Beverly Hills MD Anti-Aging Lip Enhancer reviews.
THE VERDICT: WOULD I RECOMMEND PACIFICA LIP TINT?
Pacifica Lip Tint reviews show you how to use this alone, as a base or as a finishing shimmer. I recommend Pacifica Lip Tint to anyone and even people with sensitive skin types. It adds just a touch of color so it's the perfect anytime lip color.
Pacifica Lip Tint reviews show you how this is more than just lip color - it's a must-have. Take this lip tint anywhere you go for just the right amount of color, moisture and shine. Ideal alone or as a finisher with lipstick I recommend you try Pacifia Lip Tint, today!
PROS
Moisturizing
Shimmer
Hint of color
Day & night looks
Non-toxic formula
CONS
Super glossy shine
Can loose shape
Melts in hot temps
PACIFICA LIP TINT REVIEWS: EVERYTHING YOU NEED TO KNOW