WHAT IS IT? A CLOSER LOOK AT BEVERLY HILLS MD THICK + FULL BROW ENHANCING SERUM

Beverly Hills MD Thick + Full Brow Enhancing Serum reviews make it easy to see that you can go bold with any brow shape. Now, eyebrow styling is easy-to-do at home! Do not let sparse areas or over plucking get you down. You can re-grow your bushy brows with this product and get lasting effects.
If you have been to eyebrow waxing and threading salons you may already know that over styling can damage hair growth. Unlike makeup, this product includes proven nutrients to boost hair follicles from the root for healthy, thick strands. Impressively, it also supports stem cells inside the follicles to control hair growth so you can use it double-duty as a lash primer for a flirty look.
The daily serum goes onto your brows to correct thinning, sparse areas and bald spots encouraging growth. If you want to see that this is true you can learn more by taking a look at my detailed analysis. I was interested in tossing out my lash extensions and making a commitment to purchasing only the best brow enhancer. So, I set out to the leading online shopping websites including Amazon.com and Ulta.com to select the top-rated products and separate fact from fiction. Then, I needed to know that the best-selling brow serums are safe, high-quality products so I went to the Environmental Working Group website (EWG.com) to read expert reviews.
It was really exciting watching my eyebrows transform right before my eyes with BHMD Thick + Full Brow Enhancing Serum. It took about 6 weeks (a full hair growth cycle) to see the final results but you can get the same effects if you are patient with your results. If you are interested in BHMD, I also want to tell you that I used another product you can read about in this Beverly Hills MD Dermal Repair Complex reviews. My skin has never felt better without makeup! Here is what happened when I tried Beverly Hills MD Thick + Full Brow Enhancing Serum and analyzed my results based on four specific review criteria: feel, does it work, ease-of-use and value.
WHAT ARE THE INGREDIENTS OF BEVERLY HILLS MD THICK + FULL BROW ENHANCING SERUM?
This is not a make-up or colorant. Formulated by Beverly Hills MD Dr. John Layke and Dr. Payman Danielpour, this is for healthy eyebrows.
Here are the 5 main ingredients of the eyebrow enhancing serum:
Redensyl: This breakthrough ingredient promotes healthy brows due to the ability to infuse with your skin. Inspired by regenerative medical research, redensyl corrects sparse areas, thinning and bald spots.
Capixyl: A blend of peptides and pure red clover extract shown to promote hair health.
Sympeptide™: An engineered peptide compound to increase keratin production – the protein responsible for strong, healthy strands.
Apple Extract: This ingredient prevents compounds called PKC isozymes linked to hair loss to prevent eyebrow thinning.
Micro-Keratin Amino Acids: These molecules are the "building blocks" of the hair shaft needed for healthy and strong brows.
DOES BEVERLY HILLS MD THICK + FULL BROW ENHANCING SERUM REALLY WORK?
Instead of just covering sparse areas with filler powder or a pencil you can actually regrow your hair with amino acids (protein) and other vital nutrients. Just like there is no way to reverse a bad haircut, your eyebrow style is important and you want to have control over your mistakes. Use this brow serum to correct plucking, waxing and threading mistakes in your eyebrow shaping and styling. This is a corrector for eyebrow styling boo-boo's. The active ingredients get to work on contact with your skin at the hair follicles to help achieve the brows you want.
"It Works! I have tried many eyebrow growth serums promising dramatic results, only to be extremely disappointed. I was very skeptical to try yet another serum, but I decided to give this one a try. I am so glad I did!" — Deborah Dee
IS BEVERLY HILLS MD THICK + FULL BROW ENHANCING SERUM RIGHT FOR ME?
I realized that if I wanted to keep my youthful look and frame my face with healthy brows I would need more than just makeup. When I found this eyebrow serum I knew it was right for me. This eyebrow enhancing serum may be right for you if you have hair loss, thinning, sparse brows and lashes. It is ideal for men and women who suffer with thinning and sparse areas. I also know that growth requires protein (amino acids) which is why I use protein powder.
My take: Be confident and patient with your results Everyone is different but I was able to notice the results in about 4 weeks. After two months I saw that the correcting phase ended and my brows grew back completely. I have started to trust the results of this product line based on these results and Beverly Hills MD Deep Wrinkle Filler reviews. 
HOW TO USE BEVERLY HILLS MD THICK + FULL BROW ENHANCING SERUM
Use this eyebrow enhancing serum once a day to encourage healthy brows. The serum goes onto the root of your hair follicles. Apply the serum after cleansing your skin ideally, once in the morning and once before bed. Be patient with your results as the full hair growth cycle is 5-6 weeks. So, there is no need to overuse the serum to quicken the process.
NOTE: I found this Beverly Hills MD Lift + Firm Sculpting Cream review helpful so I also ordered it. I was using it during the time I tried this product and now I actually look younger after using the BHMD products together. It is truly amazing!
WHAT DOES BEVERLY HILLS MD THICK + FULL BROW ENHANCING SERUM FEEL LIKE?
Beverly Hills MD Thick + Full Brow Enhancing Serum feels like a lash salon experience every day. I use this product as an eyelash primer for mascara, an eyebrow comb and a growth serum. The formula is completely clear and it also boosts natural eyelash and brow growth. Soothing on my skin and nourishing to my eyebrows, I apply the formula once daily in the morning. Sometimes, I will comb my lashes and brows with the serum to refresh my eyes before switching up my evening look.
IS BEVERLY HILLS MD THICK + FULL BROW ENHANCING SERUM LEGITIMATE?
Here are a few samples from customer reviews to let you know: this product is legit. It is a beautiful life to see my face come alive again with all types of looks.
Try it for yourself and you will see it is the #1 Hollywood product for eyebrows.
"Great Product! I am 62 years young and have very thin eyebrows. I started to use this serum about a month ago and I noticed the result almost immediately. I always used my eyebrow pencil or brush." — Yulia Rife
"I have seen improvements in 2 weeks and growth after 4 weeks in the area that have the thinnest brow growth to begin with. Thank you!" — Thomas Hart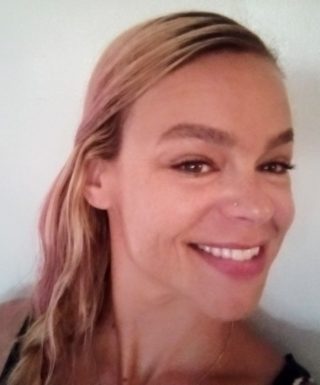 My take: I got dramatic results regardless of the eyebrow style I was going for. This re-growth serum works wonders to restore your sparse brows back to bushy!
*All results are unique and your effects will vary. Reviews are all taken from Beverlyhillsmd.com.
ARE THERE PRODUCT WARNINGS FOR BEVERLY HILLS MD THICK + FULL BROW ENHANCING SERUM?
This product is safe for adults. I did not see any product warnings on the website or in any customer review. However, there are all types of tips in customer product reviews I read online that are helpful. For example, many customers warn not to apply the serum unless your face is freshly clean and dry. This is one tip I noticed during an online search of the best eyebrow growth serums.
ARE THERE ANY BEVERLY HILLS MD THICK + FULL BROW ENHANCING SERUM LAWSUITS?
Beverly Hills MD is a registered company with the Better Business Bureau. BHMD products do not have any lawsuits. The company has an A+ BBB rating.
IS BEVERLY HILLS MD THICK + FULL BROW ENHANCING SERUM SAFE?
I did research to find the best eyebrow growth product. I can tell you from my own experience and you can also see pages of 5-star reviews on the BeverlyHillsMD.com website for yourself. That made me feel more comfortable about using a product to boost growth.
NOTE: This is a best eyebrow product review and is NOT medical advice. Talk to your dermatologist if you have any negative side effects or questions about personal safety.
WHERE IS BEVERLY HILLS MD THICK + FULL BROW ENHANCING SERUM MANUFACTURED?
Beverly Hills MD products are made in the USA. I am not sure where they are manufactured. All rights reserved.
HOW MANY TIMES A DAY CAN YOU TAKE BEVERLY HILLS MD THICK + FULL BROW ENHANCING SERUM?
Apply the product to your eyebrows consistently. The best eyebrow growth works into your daily skin care regimen so easily! I use the serum along with my facial cleansing schedule which is usually 1 – 2 times every day. You can do what feels best for your brows but – don't rush the process. There is no need to waste the product over applying it when the natural growth cycle of your hair is a full 5-6 weeks. If you need to use a little tinted brow mascara to tame your strands, you can see the competitor links below for ideas on where to shop.
HOW LONG IS BEVERLY HILLS MD THICK + FULL BROW ENHANCING SERUM GOOD FOR?
This product does not have an expiration date that I could see on the package. I followed the exact recommendations of use for 60 days and I got amazing results! If you do not see the results you wanted the company will refund you the purchase price. However, this product does not "go bad" by a specific date.
WHAT ARE THE BENEFITS OF BEVERLY HILLS MD THICK + FULL BROW ENHANCING SERUM?
The main benefits of adding this eyebrow growth serum to your beauty routine:
Correcting
Growth enhancing
Nourishing serum
Refreshing
Clear formula
Primer & lash booster
Non-toxic
DOES BEVERLY HILLS MD THICK + FULL BROW ENHANCING SERUM CONTAIN TOXINS?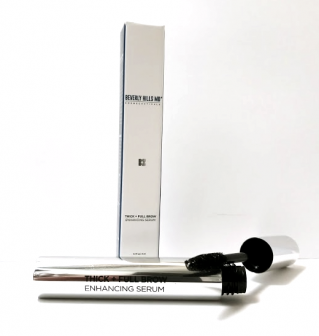 Many other eyebrow growth serums on the market today contain a toxic ingredient known as prostaglandins. These compounds are ingredients that can manipulate your body chemistry via your hormones causing rashes, dark spots and other topical irritations. You can learn more about what goes into cosmetic products by reading Beverly Hills MD Lip Plumper reviews.
Some people think the best eyebrow growth serums tingle or sting when they work. WRONG! Unlike other brow enhancers, this product contains natural active ingredients that work with your body. This product contains a large amount of active ingredients (not a micro-dose) and it contains zero toxic prostaglandins, so it does not sting or tingle when it is working like that other garbage.
WHAT ARE BEVERLY HILLS MD THICK + FULL BROW ENHANCING SERUM'S COMPETITORS?
I went online shopping to websites like Amazon.com and Ulta.com to find the best-selling products in the same category. Then, I wanted to find expert reviews on EWG.com to see which is the best product for your brows based on expert reviews.
Here are the top three eyebrow products side-by-side:
COCOCARE COCONUT OIL. COCOCARE COCONUT OIL reviews show that this coconut oil is ideal for use in high-heat cooking, skincare and hair care. Coconut oil is a folk remedy for hair growth, skin care and makeup removal.This coconut oil received a EWG SKIN DEEP score of 1 (the highest out of a 1-10 rating) by expert reviewers.
E.L.F. Wow Brow Gel.  ELF Wow Brow Gel reviews show this is a top product. EWG expert reviews show that e.l.f. Wow Brow Gel is one of the best eyebrow gels you can find on the market today. I love having this product in my make-up bag to create a bolder brow. EWG's rating for E.l.f. Wow Brow Volumizing Fiber Gel, Brunette is 2.
Milk Makeup Kush Lash Primer. Milk Makeup Kush Lash Primer reviews show you why you need this white widow base layer for your lashes. EWG expert reviews show that KUSH LASH PRIMER is one of the best eyelash primers on the market today. EWG's rating for Milk Makeup Kush Lash Primer, White Widow is 2
THE VERDICT: WOULD I RECOMMEND BEVERLY HILLS MD THICK + FULL BROW ENHANCING SERUM?
Beverly Hills MD Thick + Full Brow Enhancing Serum reviews can show you the difference between eyebrow makeup, primer and re-growth serum. If you have thinning brows or problems with over plucking, toss out your makeup! Now you can try any bold shape and easily re-grow your bushy brows.
Bottom Line: Beverly Hills MD Thick + Full Brow Enhancing Serum reviews show how this product works to correct your sparse eyebrows and over plucking. Go ahead and try any bold brow look! You can grow your thick, bushy brows back with BHMD.
PROS
Correcting
Re-growth
Fills sparse areas
Healthy, bushy brows
Money-back guarantee
CONS
Takes 5 weeks
Clear formula
Costly
Specification:
BEVERLY HILLS MD THICK + FULL BROW ENHANCING SERUM REVIEWS: EVERYTHING YOU NEED TO KNOW
| | |
| --- | --- |
| Type | Topical Cream |
| Safe | cruelty-free, animal-friendly |
5 reviews for
BEVERLY HILLS MD THICK + FULL BROW ENHANCING SERUM REVIEWS: EVERYTHING YOU NEED TO KNOW

BEVERLY HILLS MD THICK + FULL BROW ENHANCING SERUM REVIEWS: EVERYTHING YOU NEED TO KNOW