Add to wishlist
Added to wishlist
Removed from wishlist
0
Add to compare
True Lemon reviews can help you get back on track towards better health by making just one diet swap. Toss out your soda and trade it for True Lemon water. If you record in a daily health journal how much water you drink it may shock you to realize – it isn't enough.
WHAT IS IT? A CLOSER LOOK AT TRUE LEMON
True Lemon reviews showed me that it's common for most people not to drink enough water. Some suffer from health problems simply because they are dehydrated and don't even know it. I found the True Citrus website online and their "Happy Hydration," products including True Lemon Water Enhancer. I wanted to swap one soda per day for water because I heard of the range of benefits of lemon water. But is True Lemon the same as lemon water? After reading the website I realized I do not drink enough water. Experts suggest drinking about 8 16oz glasses of water per day for adults. True Lemon makes it easy to get the daily amount with this slightly sweetened all-natural drink mix.
There are numerous clinical studies that validate the website claims but I was skeptical. I wanted to know if the claims were going to be true for me so, I purchased True Lemon and I put it to the test. After 60 days with True Lemon in my diet some of the benefits include energy, detoxification plus better performance at work and at the gym. After 90 days, I lost a few pounds around my waistline because I was cutting out soda (25 g sugar per can) and finally drinking the daily recommended amount of water with lemon. Most people don't know that lemons are a potent source of electrolytes – the minerals that carry electrical currents inside muscle and nerve tissue. These electrically-charged minerals are found in lemons, and include: calcium, potassium, magnesium and sodium. Since the health benefit claims were about the same and the prices were very different, I wanted to know which of them works best compared to electrolyte drinks.
Making a commitment to my health for 90 days, I purchased the products and used them in different ways. I decided to try this product in my everyday regimen and analyze the claims on the True Lemon website. Based on customer reviews on Amazon.com, Luckyvitamin.com, iherb.com I looked for the best products to compare them to my own results. I confirmed them with expert reviews on Labdoor.com which products are top-rated. Take a closer look at what happened when I tried True Lemon based on four essential review criteria: benefits, efficacy (does it work), ease-of-use and of course taste.
WHAT DO THE EXPERTS SAY ABOUT TRUE LEMON?
Expert reviews on Labdoor.com show which electrolyte mixes and energy drinks actually work. While there are no clinical studies for True Lemon water, there is research to show efficacy of the ingredients derived from real lemon extracts. You see, without drinking enough water you can suffer from a slew of health concerns like dehydration, poor mental function, irregularity and even kidney stones. 4 Adding real lemon can deliver even more health benefits of drinking freshly squeezed lemon water in your daily regimen.
The nutrients from lemon include several vitamins and minerals including Vitamin B6 and potassium. 5 This citrus fruit offers a good source of antioxidant Vitamin C – a nutrient directly linked to a reduced risk of cardiovascular disease. 6 Lemons are a natural source of flavonoids which are bioactive compounds with many health-related functions linked to their anti-inflammatory and antioxidant properties. 7 Beyond that, polyphenol antioxidants from lemons have been associated with neuroprotective benefits for mental energy and a sharp mind. 8
Experts report that citrus extract supplements may improve anaerobic capacity and power performance during high intensity exercise. 9 Further, lemon has an alkalizing effect on the body which promotes overall health and may also help to soothe stomach upset by neutralizing stomach acid. 10 Researchers confirm that using lemonade therapy may help reduce kidney stones. I needed lemon for detoxification because I rarely drink the daily recommendations of water. 11
WHAT DO CUSTOMERS SAY ABOUT TRUE LEMON?
True Lemon Lemonade reviews show how people just like you and me get health benefits using this product.
"I LOVE this lemonade! This is extremely low carb (1g) so this works great for keto, too. It does NOT kick you out of ketosis – so says my ketone blood test meter. I had one or two TrueLemon lemonade or iced tea just about every day for the 6 months or so I was doing keto full-time. 35 pounds, buh-bye, and I'm back to my high-school athlete weight at age 57."
— J.B.
My take: I agree that this lemonade is an absolute game-changer. Not only is it a water enhancer but you can also get it lightly sweetened. Because it contains real lemon extracts you feel good about drinking more water. Plus, it is easy to use within any diet restriction to cut back on sugar.
True Lemon reviews show you how everyone can enjoy the flavor and health benefits. Here are just a few of the key ways True Lemon crystals support your health (verified by expert researchers):
Cleansing
Energy
Detoxification
Mental functioning
Cardioprotective 2
Anti-inflammatory
Antioxidant 3
"I am really excited about discovering this product. I love to drink lemon in my water, and I have recipes that call for lemon juice, but I don't always have fresh lemons on hand. This is so close to fresh lemon juice that I'll never want to use anything else to substitute when I don't have lemons in the house." — KV
My take: Personally, I really enjoyed using this product alone with 16 oz of water to detoxify my body. But I also found countless other ways to use it. Read more about what I learned from using True Lemon packets in my everyday health and fitness regimen for lemon water benefits. I think you will want to get the same results and experiment with this product yourself for hydration, tasty lemonade or body cleansing.
THE FOUR CRITERIA: HOW DOES TRUE LEMON STACK UP?
Basically, drinking lemon water is supposed to boost my metabolism, cut sugar cravings and cleanse my body. I have heard that lemon water is energizing enough to replace your morning coffee but I didn't believe it. After all, I drink coffee every day and I always have mid-day sodas or energy drinks just to get through the day. You can learn more about fighting fatigue in Energy Renew reviews. I tried True Lemon to make lemon water every day for 90 days to see how it compares.
Based on the four review criteria, this is how True Lemon stacks up:
Health Benefits. I always want my body to be healthy and experts say lemon water may boost metabolism, energy and detoxification. I don't have the time to make fresh lemon juice every day however, this one is especially attractive for its health claims and low price. I noticed that I really could replace sugary sodas with this lemonade so I had fewer food cravings as soon as I started using it. I also was able to see changes in my health including more power at the gym, mental focus and even weight loss after about 6 weeks.
Efficacy (does it work). When I review a product I want to know everything about how it works and of course – if it actually works. I tested this product for efficacy based on the health claims made by the company that it is made with real lemon and thus is the same as lemon water. Using a packet in the morning to make lemon water in place of coffee, I had more energy all the way until lunchtime. I also found that it helped me lose weight. True Lemon is actually good for me, too! However, this is not a replacement for lemon water because it is made from extracts and not real fruit, so it lacks some of the nutrients including pectin fiber.
Ease-of-Use. One of the things I liked best about the True Lemon single serving packets is the ease-of-use. Not only do the travel packs make it easy to take advantage of nutrient timing but they also contain less than one gram of sugar per serving (16 oz of water). Slightly less nutritious than real lemon water, True Lemon still performs well as an energy booster and body cleanser. After 30 days of using it as a water enhancer, I have the little packets everywhere so there is always a glass of lemon water waiting. I think True Lemon is even better than RTD (ready-to-drink) lemon water because it fits in your pocket.
Taste. Unlike lemon concentrate or regular lemonade mix, True Lemon crystals are made with real citrus juice and oil. The taste is not overpowering so you can use True Lemon in a range of foods and beverages. I love the tart, tangy crystals so much I use them to top the rim of my glass for lemonade.
WHAT IS IT: A CLOSER LOOK AT TRUE LEMON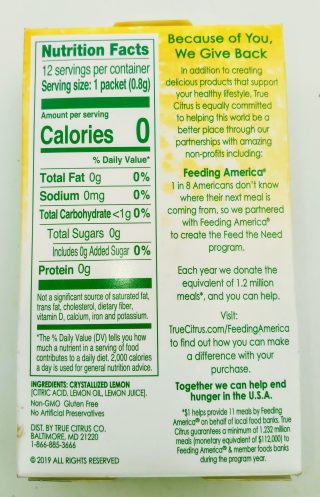 True Citrus is a brand that makes food flavorings and water enhancers from simple, clean ingredients. Derived from real citrus juices and oils, all True Citrus products are low in calories (0-10 calories per serving) and have little to no sugar (0-1 gram per serving).
True Lemon is similar to lemon water except that it does not contain all of the nutrients in real lemons. Real lemon water contains the essential oils of lemon and its juice extract along with fiber and other vitamins. Unlike lemon water True Lemon contains citrus extracts – not the full-spectrum of nutrients of lemon fruit. Both real lemon water and True Lemon crystalized lemon deliver a fresh-squeezed taste.
IS TRUE LEMON RIGHT FOR ME?
It can be challenging to want to drink lemon water, especially when there are sugary sodas or creamy coffee as options. True Lemon is a great way to enhance the flavor and nutrients in your water. It is ideal for everyone because it helps make it easy to drink more water to get health benefits – at any age! Everything just tastes better with a sprinkle of True Lemon.
DOES TRUE LEMON REALLY WORK?
There are a lot of claims on the internet about the benefits of drinking lemon water. While the health claims are backed up with scientific data from experts, I still wasn't convinced it worked until I tried it for two months. During the first four weeks I noticed that I had more energy and I was performing better at work and in group fitness class. After the full 60 days I really started to see changes in my health including a mental sharpness, weight loss and smoother looking skin. Experts know that weight loss is possible with balanced blood sugar levels –  a main benefit of lemon water.
My take: Like many customers I also noticed fewer sugar cravings and crashes, which may be due to the ability of lemon juice to support blood glucose. While everyone is different and you will have different effects, my results are also mentioned by True Lemon customer reviewers. Be patient with your results, stick to healthy habits and you will get benefits, too!
WHAT DOES TRUE LEMON TASTE LIKE?
If you like lemonade this may not be the right product for you. True Lemon is made from real lemons and nothing artificial so you may need to add sugar or Stevia. However, I like it better than Crystal Light Lemonade mix because you can add it to other foods and it tastes like real lemons – with a tart bite.
"I saw this product at a local grocery store. It was in a 10 pack. She has always loved lemonade so I bought her a box. She loved it. I'm one of those people who prefers either real sugar or no sugar. I don't even like Stevia. She was a little concerned about the Stevia but said she hadn't had any bad effects from it."
— WW
My take: Compared to lemon water this product is not a complete alternative because it does not contain pectin like in real lemon peels. However, True Lemon offer electrolytes found in freshly squeezed lemon water. This drink mix encourages you to drink and hydrates you to support body cleansing like other, more expensive energy drinks. Plus you can take it anywhere in little packets!
Here is what customers do with the unflavored, unsweetened True Lemon.
"Great flavor and so convenient! I love having a burst of fruit without the hassle of refrigeration and limited freshness."
— Wendi M. on 7 Jun 2021
My take: True Lemon can be used as an alternative if you want to make detoxifying lemon water at home or on-the-go. It is ideal for cooking but when it comes to lemon water, it is not a replacement for fresh lemon juice or the comprehensive detox blend inside Dirty Lemon. The plus side to that is that it's much cheaper than RTD (ready-to-drink) lemon supplements or lemon oil. I add ZERO calorie True Lemon to my favorite energy drink mixes and juices for extra flavor. Try it with Gundry MD Energy Renew reviews!
HOW-TO USE TRUE LEMON:
Each serving of True Lemon can be dissolved in a 16 oz glass of water, added to juice or food. Simply follow the instructions on the packaging to create a single serving of lemon water or you can get creative and add True Lemon crystals to your favorite juice recipes. I even add a sprinkle of the True Lemon shaker to canned foods! It really is unlike any other lemonade mix you can find because it is all natural and really tastes like lemons.
True Lemon crystals contain no sweeteners and zero artificial ingredients. Add it to anything for a tart, tangy bite. True Lemon Lemonade is made with naturally extracted and purified Stevia – not artificial sweeteners like aspartame found in Crystal Light.
IS TRUE LEMON SAFE?
Citrus fruits like oranges, limes and lemons are superfoods you may not have already heard about. It isn't always easy to make freshly squeezed lemon water every day but the health benefits are well-known. I recommend you try True Lemon as a safe and easy way to enjoy lemon water every day! Made from real crystallized lemons it contains no artificial sweeteners, colors or preservatives.
NOTE: Always check with your health care provider before starting any new dietary supplement. While True Lemon is considered safe to use for everyone it is best to talk to a doctor before changing your diet.
IS TRUE LEMON DIET FRIENDLY?
This product is non-GMO, gluten-free and it contains no artificial sweeteners, flavors or preservatives.
WHAT ARE TRUE LEMON COMPETITORS?
I love fresh lemon water but I don't always have the time to make it. True Lemon is not only delicious but it also comes in other citrus flavors so I wanted to more about drink mixes. Shopping online, I want to make sure I am getting the best-selling product for the best price. Here are the top-rated competitors based on expert reviews from Amazon.com,  Luckyvitamin.com, iHerb.com and Labdoor.com.
True Lemon. I use this as a close replacement for lemon water however, it does not offer the nutrients of freshly squeezed lemon water. Made from true lemon extracts this mix offers the closest comparison to lemon water. True Lemon Lemonade is under 10 calories (sweetened with Stevia) and can help you kick sugary sodas to the curb!
Gatorade Thirst Quencher. This lemon-lime flavored electrolyte mix is ideal for re-hydrating. It has a refreshing, tangy citrus flavor however, it contains artificial sweeteners and other ingredients. Expert reviews show this is one of the top-rated products with a A expert review rating and Labdoor score of 93.2%.
Mio Energy. This water enhancer is ideal on-the-go however, it got a low score in expert reviews rating an F with a Labdoor score of 48.9%. This energy drink contains artificial ingredients and is sweetened with sucralose but until I found True Lemon it was the most convenient water enhancer available.
THE VERDICT: WOULD I RECOMMEND TRUE LEMON?
True Lemon reviews show you how making this one simple commitment to your health can change your life. Plain water is boring, but True Lemon adds a tart, tangy flavor everyone can enjoy! Compared to lemon water, detox supplements and energy boosters this is the least expensive product. Overall, I would recommend that you try the packets and make True Lemon water or lemonade yourself. It is the best replacement for lemon water that tastes like freshly squeezed lemonade!
TRUE LEMON LEMONADE REFERENCES:
CDC Data Brief. National Center for HEalth Statistics. Daily Water Intake Among U.S. Men and Women. https://www.cdc.gov/nchs/products/databriefs/db242.htm
Klimek-Szczykutowicz M, Szopa A, Ekiert H. Citrus limon (Lemon) Phenomenon-A Review of the Chemistry, Pharmacological Properties, Applications in the Modern Pharmaceutical, Food, and Cosmetics Industries, and Biotechnological Studies. Plants (Basel). 2020;9(1):119. Published 2020 Jan 17. doi:10.3390/plants9010119.
Lv X, Zhao S, Ning Z, et al. Citrus fruits as a treasure trove of active natural metabolites that potentially provide benefits for human health. Chem Cent J. 2015;9:68. Published 2015 Dec 24. doi:10.1186/s13065-015-0145-9.
CDC Data Brief. National Center for HEalth Statistics. Daily Water Intake Among U.S. Men and Women. https://www.cdc.gov/nchs/products/databriefs/db242.htm
Adda Bjarnadottir, MS, RDN. Lemons 101: Nutrition Facts and Health Benefits. March 22, 2019.
Enstrom JE, Kanim LE, Klein MA. Vitamin C intake and mortality among a sample of the United States population. Epidemiology. 1992 May;3(3):194-202. doi: 10.1097/00001648-199205000-00003. PMID: 1591317.
J.A. Del Rı́o, M.D. Fuster, P. Gómez.. Citrus limon: a source of flavonoids of pharmaceutical interest. Food Chemistry, Volume 84, Issue 3, 2004.
Pontifex MG, Malik MMAH, Connell E, Müller M, Vauzour D. Citrus Polyphenols in Brain Health and Disease: Current Perspectives. Front Neurosci. 2021 Feb 19;15:640648. doi: 10.3389/fnins.2021.640648. PMID: 33679318; PMCID: PMC7933480.
van Iersel, L.E., Stevens, Y.R., Conchillo, J.M. et al. The effect of citrus flavonoid extract supplementation on anaerobic capacity in moderately trained athletes: a randomized controlled trial. J Int Soc Sports Nutr 18, 2 (2021). https://doi.org/10.1186/s12970-020-00399-w
Shefalee K. Bhavsar, Paulomi Joshi, Mamta B. Shah & D.D. Santani (2007) Investigation into Hepatoprotective Activity of Citrus limon., Pharmaceutical Biology, 45:4, 303-311, DOI:
Seltzer MA, Low RK, McDonald M, Shami GS, Stoller ML. Dietary manipulation with lemonade to treat hypocitraturic calcium nephrolithiasis. J Urol. 1996 Sep;156(3):907-9. PMID: 8709360.
True Lemon reviews can help you get back on track towards better health by making just one diet swap. Toss out your soda and trade it for True Lemon water. If you record in a daily health journal how much water you drink it may shock you to realize - it isn't enough.
PROS
Low calorie (<15 calories)
Go-anywhere packets
Real lemon
All-natural
CONS
Tart flavor
Fruit extract
Not lemon water
Specification:
TRUE LEMON REVIEWS: EVERYTHING YOU NEED TO KNOW
| | |
| --- | --- |
| dietary-friendly | Artificial Sweeteners Free, Gluten-Free, Natural, Sodium-Free |
| type-of-consumable | Powders |

TRUE LEMON REVIEWS: EVERYTHING YOU NEED TO KNOW