WHAT IS IT? A CLOSER LOOK AT QUEST BAR
Quest Bar reviews show you how easy it can be to eat healthier. Starting with just one nutrient: protein, I was able to jumpstart my weight loss and you can too. As a meal replacement Quest bars are an ideal way to slash your calorie intake and boost your body's protein for muscle growth, weight loss, appetite control and other health benefits. I was unsure that Quest Bars were the best protein bars on the market so I set out to discover which supplement works for other customers. I set out to read customer reviews for the best-sellers in the protein bars category on Amazon.com and iHerb.com. Then I compared the 5-star reviews to what I read about the products in expert reviews on Labdoor.com. Here is what happened when I tried Quest Bars based on four review criteria: health benefits, efficacy (does it work), ease-of-use and of course taste.
WHAT DO THE EXPERTS SAY ABOUT QUEST BAR?
Labdoor expert reviews show that Quest Bar is a top-rated product. This protein bar received a Labdoor score of 85.5% B, by expert reviewers.
" … Quest Bar measured 21.3 g of whole protein and 187.7kcal (total calories) per serving."
Quest Bar received a perfect score for product purity and a 97% for nutritional value. Other high scores from expert reviewers included those for projected efficacy and label accuracy.
WHAT DO CUSTOMERS SAY ABOUT QUEST BAR?
Reading customer reviews for Quest Bar I found that this is the favorite protein bar for many people. Here is just a sample of what I found out about people who love eating Quest Bar and their results.
"Quest has outdone themselves with their Birthday Cake Protein Bar. Personally, I like the high-protein, low-carb nutritional value and it tastes remarkably like a birthday cake! Along with regular exercise, Quest Bars have been instrumental in achieving my weight-loss goal of 87 lbs. during the past year. Even my Son – who is a very "picky" eater – eats one of these bars instead of cookies or candy for dessert." — Adriana W.
My take: The Quest Bar is a satisfying way to cut food cravings and get the daily recommended amount of protein. My favorite feature of this protein bar versus other bars is the sweet flavors with zero sugar. Without causing insulin spikes, the Quest Bar makes it easy to feel full using it for a snack, meal replacement or post-workout replenishment. I agree with most customers who notice more muscle, fewer food cravings and weight loss. This bar is a win for weight management!
THE FOUR CRITERIA: HOW DOES QUEST BAR STACK UP?
Here is how QUEST BAR stacks up based on the four review criteria:
Benefits. Eating more protein has given me health benefits I read about in Quest Bar reviews. After 14 days I saw more muscle definition and after 30-days I saw muscle growth, more energy and fewer food cravings. Over time, the effects also included weight loss and changes in my body mass.
Efficacy (does it work). I was able to reduce my calorie intake over the 30 days I ate Quest Bars as meal replacements. I felt satisfied and I also started noticing more defined muscles after about 2 weeks. After 30 days the results were clearly showing up and I had more energy, stronger muscles and I lost weight. My take: Quest Bars work for weight loss results better than exercise alone.
Ease-of-Use. The chewy, noguty texture of Quest Bar makes it easy to eat them no matter where I am. I never missed a supplement in my diet because the bars are individually wrapped and nutritionally balanced so that they never trigger sugar cravings. I keep them in my gym bag, my car and in my house so I never overeat junk food.
Taste. Quest Bars are one of the best-tasting protein bars in my opinion. I have tried other protein supplements and some of them taste like a medicine, or have a chalky texture. These protein bars are more like a candy bar – with zero sugar! Read more in my Pure Protein reviews and Luna Bar reviews.
WHAT IS IT: A CLOSER LOOK AT QUEST BAR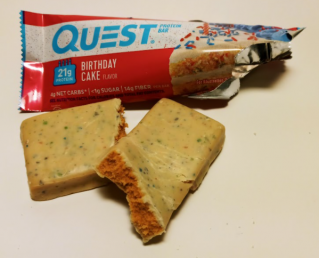 Quest Bar is diet friendly with a high-protein ingredient list made from quality milk protein isolate and whey protein isolate. Low-glycemic and low-carb, this protein bar is also high in fiber and offers a whopping 20 grams of protein under 200 calories.
QUEST BAR ingredients: Protein Blend (Milk Protein Isolate, Whey Protein Isolate), Soluble Corn Fiber, Water, Erythritol, Almonds, Palm Kernel Oil, Natural Flavors. Contains Less Than 2% of the Following: Sodium Caseinate, Sea Salt, Gum Arabic, Spirulina Extract, Red Cabbage Extract, Turmeric Extract, Radish Extract, Sucralose, Sunflower Lecithin.
IS QUEST BAR RIGHT FOR ME?
Quest Bar is right for you if you want balanced nutrition. It can be difficult to meet all of your nutritional requirements especially when you are at work, or on-the-go. Reaching for a Quest Bar as a snack or meal replacement is the best way to jumpstart your health goals. Many people achieve weight loss and stronger muscles when they add Quest Bar to a balanced diet and regular exercise.
Quest Bar is not a nutrition bar just for athletes. People just like you and me are losing weight every day and reaching other health goals by simply eating more protein. Quest Bar is right for people of all ages to meet nutritional gaps and stave off hunger and cravings.
DOES QUEST BAR REALLY WORK?
While the health claims are backed up with scientific data from experts, I still wasn't convinced. I read customer reviews on iherb.com that show how protein is an essential nutrient needed for a range of functions in your body. Without enough protein, your body can suffer however, meeting the daily requirement can deliver health benefits. Quest Bar also contains 14 grams of filling fiber to support your digestive system and help control your appetite.
Health benefits of protein:
Learn more about how protein works in Proplant Complete Shake reviews.
WHAT DOES QUEST BAR TASTE LIKE?
The chewy texture of Quest Bar makes it easy to eat more protein. Coated in a sweet icing, the Quest Bar has more of a nougat candy bar taste so it doesn't feel like I am eating diet, or health food. I like to replace snack foods and energy bars with the Quest Bar because it does leave you wanting to have a drink. The dense texture of the Quest Bar tastes best with a full 8 oz glass of water, juice or Proplant Complete Shake.
HOW-TO USE QUEST BAR
Eat Quest Bar to stave off food cravings and resist junk food. This bar is also highly nutritious so it works as a meal replacement ideal for breakfast, mid-day snacking, lunch or dinner. Oftentimes, I use this protein bar for pre-workout energy or post-workout replenishment to help build muscles.
You can cook with Quest Bar! Go to the Quest Nutrition website to learn more about recipes with Quest Bar.
DOES QUEST BAR CONTAIN TOXIC INGREDIENTS?
Quest Bar is Kosher and certified gluten free. This product is free of harmful additives and artificial ingredients.
Nutritionally, you can count on Quest Bars to deliver about 24 g Carbohydrates, 14 g Fiber, 6 g Erythritol and just 4 g net carbs. While some people do not recommend artificial sweeteners, erythritol is a non-toxic alternative to sugar that helps to keep this protein bar diet friendly.
IS QUEST BAR SAFE?
In large amounts erythritol may cause digestive upset however, it is uncommon you will eat too much if you follow the serving recommendations. Allergen warnings include those for milk and almonds on the label.
NOTE: While Quest Bars are ideal protein supplements for everyone, it is best to talk to a dermatologist if you have any allergies or negative reactions.
WHAT ARE QUEST BAR COMPETITORS?
Shopping online, I want to make sure I am getting the best-selling product for the best price. I read customer reviews for Quest Bar on Amazon.com, and iherb.com along with the expert reviews for the top-rated products on Labdoor.com. Here are the best protein supplements according to my analysis:
Pure Protein Bar. Pure Protein products contain 5g sugar or less, 20 grams of protein and they taste amazing! Labdoor.com expert reviews can show you more about why this product earned a 68% score. Learn more about this supplement in Pure Protein Bar reviews.
Luna Bars. Not only are Luna bars delicious but they also have 13 grams of muscle-building protein – under 200 calories! Expert reviews reveal that Luna Bars are not the best protein bars on the market with a Labdoor score of C – 75.8%. Learn more about protein bars for women in Luna Bar reviews.
ProPlant Complete. This protein shake is made with plant-based protein. It is an ideal pairing to eat a protein bar with this creamy shake for filling meal replacement and muscle growth. You can learn more about how to use protein supplements in Proplant Complete reviews.
THE VERDICT: WOULD I RECOMMEND QUEST BAR?
Quest Bar reviews show you how you can jumpstart your health regimen by eating more protein bars. Used as a meal replacement, snack food or post-workout replenishment Quest Bar builds muscle, curbs your appetite and cuts cravings. I recommend Quest Bar in any flavor to achieve your weight loss goals!
Quest Bar reviews show you how easy it can be to eat healthier. Starting with just one nutrient: protein, I was able to jumpstart my weight loss and you can too. As a meal replacement Quest Bars are an ideal way to slash your calorie intake and boost your body's protein for muscle growth, weight loss, appetite control and other health benefits.
PROS
High-protein
Low-carb
Certified gluten free
Weight loss
Muscle building
CONS
Artifical sweetener
May cause digestive upset
Chalky aftertaste

QUEST BAR REVIEWS: EVERYTHING YOU NEED TO KNOW