WHAT IS IT? A CLOSER LOOK AT NUCIFIC BIO X4
Nucific BIO X4 reviews can show you how to get your diet back on track and reach your weight loss goals. It is easy to write about this supplement because this product actually works! If you have a few extra pounds to lose or if you are struggling with unwanted weight that always seems to linger, BIO X4 can help you reach your goals. The 4-in-1 weight management supplement works by optimizing your weight loss efforts through your digestive system. BIO X4 side effects are generally well-tolerated and overall they seem positive. You might be shocked like I was to discover that your belly bugs (also known as biotics) play a vital role in your overall health. Able to supercharge your metabolism, curb food cravings and promote a healthy weight loss, BIO X4 is loaded with nutrients that approach the cause of stubborn pounds: your digestive system.
Over time, I had accumulated a few bad habits in the kitchen which resulted in about 30 extra (and unwanted) pounds. I made the commitment to get my health back on track so I purchased this product from Nucific to jumpstart my weight loss. I was skeptical I would get results but I tried the product for 90 day anyway. I recorded my results based on four specific review criteria: benefits, efficacy (does it work), ease-of-use and taste. You can learn more about how this product stacks up to other products in the same category on Amazon.com and iHerb.com. I wanted to find the best weight loss probiotics and compare them so I confirmed the top-rated products with expert reviews on Labdoor.com. Here is what happened when I tried Nucific BioX4 for 90-days along with a healthy diet and a moderate exercise regimen.
WHAT ARE THE NUCIFIC BIO X4 INGREDIENTS?
Adding BIO X4 probiotics supports your overall health through your GI tract. The main ingredients inside Nucific BIO X4 include these vital strains of probiotic bacteria, digestive enzymes and fat-burners for total weight loss.
Lactobacillus acidophilus (probiotic)
Lactobacillus rhamnosus (probiotic)
Lactobacillus plantarum (probiotic)
Bifidobacterium lactis (probiotic)
Bifidobacterium animalis (probiotic)
Amylase (enzyme)
Bromelain (enzyme)
Lipase (enzyme)
Green tea extract (50% EGCG)
Slimaluma TM
HOW DOES IT WORK? RESULTS AND EFFECTS OF NUCIFIC BIO X4
Everyone is different so it is important that I remind you to be patient with your weight loss. During your first 30 days or even 60 days, your results may be different from other Nucific BIO X4 reviews. However, here is a basic breakdown of how BIO X4 works without many side effects.
The 4-way weight loss strategy of BIO X4 includes:
Weight Management Blend. Includes a green tea extract known as EGCG – a compound clinically shown to supercharge your energy, burn fat and promote appetite control. The weight management blend is included to support weight loss efforts for those who can tolerate caffeine from green tea extract without side effects.
Craving Control Blend. Food cravings can take over your willpower and hijack your weight loss efforts. If you struggle with weight loss because you are constantly fighting off cravings, the BIO X4 reviews agree that the craving control blend includes ingredients that help you say, "No."
Digestive Enzyme Blend. Nucific BIO X4 includes 12 billion CFUs from potent strains of probiotic bacteria including Lactobacillus and Bifidobacterium probiotic strains. These probiotic blends were selected to soothe symptoms of digestive upset including gas, bloating and gastric inflammation. I read about another product in this PrebioThrive reviews where I learned how gut bacteria can affect your energy and metabolism. This product also helps to break down hard-to-digest foods with 3 key digestive enzymes: amylase, lipase and bromeliad.
Metabolism. Everything you eat and drink contains calories however, it's your metabolism that influences how fast you can burn them off. In another Energy Renew reviews, I learned how polyphenols (antioxidants) work to boost energy, support muscle recovery and cardiovascular function. So now I also use that supplement in my regimen as well.
DOES NUCIFIC BIO X4 REALLY WORK?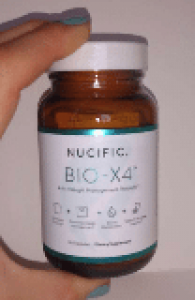 Of course there is no superhero that can save you from the effects of overeating, slurping down sugar sodas and skipping the gym. However, this 4-in-1 weight loss formula from Nucific BIO X4 really works. Formulated to address what stands in the way of successful weight loss for most people (gut biotic imbalance) BIO X4 includes everything that your body needs to reach your goals. Read other Nucific BIO X4 review pages to learn more. I wasn't sure this supplement would work for me until I read other BIO X4 review posts from real customers who purchased the weight loss supplement and actually used it long enough to report the effects.
"It's been a few weeks and I can honestly say, I feel different! I feel lighter. My digestive problems have greatly improved, and I don't feel hungry all the time so I eat less. These are just a few of the improvements I've noticed. I am on the auto-ship plan and have accepted Bio-X4 as my new lifestyle choice." — Adrian O.
"I have been taking the product for 3 weeks. My energy level is up, digestion has improved. I'm looking and feeling terrific." — Barbie W.
My take: I realized the reason BIO X4 really works is because many of the individual ingredients are clinically proven to help you lose weight without long-term side effects. BIO X4 reviews showed the scientifically proven weight loss ingredients including green tea extract, a digestive enzyme blend and essential probiotic bacteria work.
IS NUCIFIC BIO X4 RIGHT FOR ME?
Nucific BIO X4 is ideal for all adults who struggle with unwanted weight gain or long-term weight control. If you have tried other types of weight loss supplement products before you may wonder what makes BIO X4 different. BIO X4 is for everyone! Unlike other weight loss formulas that approach fat cells, calorie burning and let's face it … shaming you into losing weight, Nucific BIO X4 works to address overall health. Approaching the root of your weight loss: your belly, Nucific BIO X4 supports your weight loss goals in the 4 ways needed to get you there. Researchers already know that BIO X4 is a formula for everyone because it approaches digestive health, nutrition and overall health all at once. Let's put it this way. There is nobody who does NOT need this supplement (as all other BIO X4 review content on the internet also dictates).
"Love not feeling hungry all the time Eating smaller portions More energy Regular bathroom habits." — Howard T.
My take: I noticed it was so much easier while taking Nucific Bio X4 to avoid sugary sodas. Food cravings seem easier to tolerate and I also am making healthier food choices. It must be the clinically-backed ingredients of the formula going to work!
HOW TO USE NUCIFIC BIO X4
Unlike other probiotic formulas you can get, BIO X4 helps you achieve your ideal body shape. As the 4-in-1 formula works to help you digest food, convert calories into energy, break down fats and increase feelings of fullness you gain the benefits. Use the instructions on the package of BIO X4 only after talking to your doctor directly about starting a new supplement regimen. When you want to achieve a healthy weight loss, there is no way to lose weight that does NOT include your doctor however, I learned alot from High Impact Protein reviews.
"I'm blown away since I started, which was about 1 1/2 months ago and I've stopped smoking, been going to the gym routinely and I can finish my 5k in under 30 mins. I also can eat cheese and drink milk without running immediately to the bathroom I no longer even think about eating fast food I've had it probably 4 times since #BIO X4 for life. My body looks amazing now." — Pat K.
My take: I was able to jumpstart my health with weight loss using this product. I found it was easier to make the dietary changes I needed to make to create good habits in the kitchen when I took the daily dose. I will continue to supplement my diet with this product even after the 90-day trial period based on the amazing results. While BIO X4 is one of the best products from these supplement products, it cannot make weight loss happen for you. Use this weight loss aid along with your doctor's recommendations of a healthy diet, exercise and sleep as others of the BIO X4 review suggest.
WHAT DOES NUCIFIC BIO X4 TASTE LIKE?
BIO X4 is a single serving capsule. There is no taste of this supplement however, I included this for the purpose of a complete BIO X4 review. You may notice a slight herbal aftertaste from green tea extract, caralluma fimbriata or other ingredients shortly after taking a dose.
My take: I found the best way to use a dietary supplement for weight loss is to take it at the same time every day. I blended a weight loss shake in the morning as part of my regimen, which you can learn about in Proplant Complete Shake reviews. It was best for me to take the capsules with the rich, creamy sake.
IS NUCIFIC BIO X4 LEGITIMATE?
Nucific BIO X4 actually works and you can see the results are real because many customers have posted a BIO X4 review online. However, the most reliable proof that Nucific BIO X4 is legitimate can be seen here in studies I found for these main ingredients of the supplement.
You can learn more about the role probiotics play in your health and weight loss in Multi-GI 5 reviews.
ARE THERE PRODUCT WARNINGS FOR NUCIFIC BIO X4? 
I found that there are no known side effects of BIO X4. The capsules are gluten-free and allergen-free. You should always talk to your doctor before taking capsules from a dietary supplement. Some BIO X4 reviews included details of digestive upset, jitters and other symptoms. It is important to note BIO X4 also contains caffeine from green tea extract and also could cause interactions due to caralluma fimbriata.
ARE THERE ANY NUCIFIC BIO X4 LAWSUITS? 
At this time, I was not able to find any lawsuits against Nucific BIO X4. The company currently has an A+ rating with the BBB. You can also see a lot of information about the company on their website at Nucific.com.
ARE THERE SIDE EFFECTS OF NUCIFIC BIO X4?
As with many other probiotic supplement products, your digestive system may have a reaction when you begin a new regimen containing these ingredients. Along with digestive enzymes, probiotic bacteria may cause mild side effects including gas, bloating and diarrhea.
WHERE IS NUCIFIC BIO X4 MANUFACTURED?
I can confirm that BIO X4 is manufactured by Nucific but I cannot confirm where the supplement is actually made.
HOW MANY TIMES A DAY CAN YOU TAKE NUCIFIC BIO X4?
If you want to lose weight do not use this review as a doctor's recommendation. Talk to your own physician. Use the dosage indications on the package of Nucific BIO X4 and be patient with your weight loss. Never take more than the recommended daily dose to speed your weight loss results. You can learn more about how to supplement your weight loss to achieve your goals in this Kevita Sparkling Probiotic drink review. It is the ideal replacement for sugary soda if you want to lose weight.
HOW LONG IS NUCIFIC BIO X4 GOOD FOR?
Each batch of this supplement will have a different expiration date on the container. There are limitations for the shelf-life of probiotic supplement formulas and as you may know, this BIO X4 review is intended to be honest. Green tea, caralluma fimbriata, digestive enzymes and probiotic bacteria all need to be consumed before the expiration date on the package for the best results and no side effects.
WHAT ARE THE BENEFITS OF NUCIFIC BIO X4?
The short and long-term effects of Nucific BIO X4 are noted in numerous reviews. Offering a combination of digestive enzymes and beneficial bacteria and other clinically backed ingredients, BIO X4 improves your gut health. Approaching the microbiome of bacteria inside your belly, the 4-in-1 formula then boosts your overall health, mood and other cognitive functions as well as physical performance. Some known positive side effects of using BIO X4 include weight loss, energy, smoother digestion and fewer food cravings. Probiotic formulas help to soothe your digestive tract from years of eating a diet poor in nutrition. If you are suffering from irregularity, food cravings and weight loss you may also be interested in reading this Total Restore review to learn about how leaky gut can damage your good health. And how you can get back on track.
DOES NUCIFIC BIO X4 CONTAIN CAFFEINE? 
This dietary supplement contains caffeine derived from green tea and other ingredients that may cause mild side effects. Talk to your doctor if you are concerned about drug interactions, your current health condition or common side effects of caffeine consumption.
WHAT ARE NUCIFIC BIO X4 COMPETITORS? 
Nucific Bio X4 reviews make it simple to see that no matter what your weight loss goal is – you can achieve it. I tried looking for other products recommended by customer reviewers on Amazon.com and iHerb.com. I wanted to find other probiotics and compare the reviews to my own results. I confirmed the top-rated products with expert reviews on Labdoor.com so I wasn't wasting my money.
The top three competitors for Nucific BIO X4 in the weight loss category side-by-side.
TruNature Probiotic. This is a daily digestive health supplement that works as part of a regimen to achieve weight loss goals. It is a top-rated product with an Labdoor score of A – 95.2%.
Align Probiotic Supplement. Another daily dose probiotic however, this one is made to survive longer in the GI tract. I use this formula in the morning to boost digestion. An A- product, this probiotic capsule is still stop-rated by expert reviewers with a Labdoor score of A- 90.3%
Vitamin Code. Made like vitamins for weight loss, this includes the nutrients your body needs to burn calories and fat. Optimize your metabolism with this product. Top-rated by expert reviewers this weight loss supplement has a Labdoor score of B 83.7%
THE VERDICT: WOULD I RECOMMEND NUCIFIC BIO X4?
If you have a weight loss goal I would recommend you get Nucific BIO X4. Talk to your doctor about what you read here and check to see what other customers are talking about in Nucific BIO X4 reviews. There is a 90-day refund guarantee so if you use the entire bottle and you still are not happy with the results you can get your money back. There really is no reason NOT to try this product for a full 3 months. Then, if you are not as thrilled as I am with your own results (get this) you do not even pay.

NUCIFIC BIO X4 REVIEWS: EVERYTHING YOU NEED TO KNOW